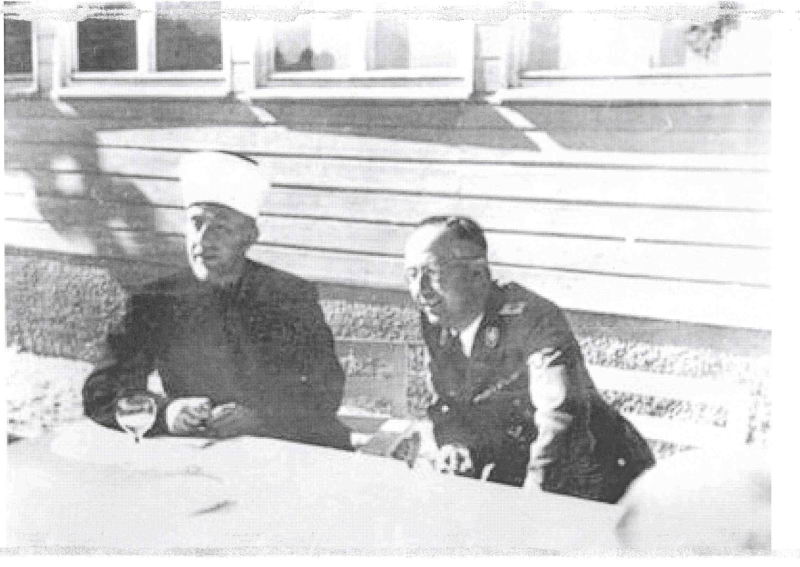 Wine with Husseini and Himmler
The Mufti's Muslim Armies for Hitler
I have long written about the alliance between the Muslim world and The Third Reich. Scroll this link. There is a censorship on this dark, ugly aspect of World War II, and Islam's role in the Holocaust.
We need more speeches like the one Netanyahu gave at Bar Ilan. I fault him only in that he uses the word "Arab" instead of Muslim. The leader of the Muslim world cited quranic chapter and verse in his exhortations to annihilate the Jews in his weekly radio addresses from Berlin to the Axis powers and the Muslim world. The 1,400 year jihad against the Jews is not about race or a nationality or an ethnicity, it's a religious mandate -- Islamic Jew-hatred: it's in the quran:
US Confirms Role Of Mufti as the Nazi Middle East Leader  September 17, 1945
Below: The Nation, May 17th, 1947 
"Netanyahu Links Palestinian Leadership, Nazis" by Gil Rone, Israel National News
In a surprisingly powerful and frank speech at Bar Ilan University, delivered in a calm and almost informal manner, Prime Minister Binyamin Netanyahu pointed to a deep link between the Palestinian national movement and the Nazi regime in Germany.

At the heart of the oration was the determination that Arab rhetoric notwithstanding, the "territories" and "settlements" are not the heart of the territorial conflict between Jews and Arabs – but that the conflict stems from the historic refusal of the Arabs to accept a Jewish state.

Netanyahu provided quotes and evidence showing that the supreme leader of the Palestinian Arabs in the first half of the 20th century, Mufti Hajj Amin al-Husseini, was actively involved in encouraging Adolf Hitler and his henchmen in their project of annihilating the Jewish people.

The Jewish-Palestinian conflict began, said the prime minister, in 1921, when Arabs attacked Beit Haolim in Yafo (Jaffa), which housed new Jewish immigrants. They murdered several Jews, including famed writer Yosef Haim Brenner.
Continue reading "Finally ..... Netanyahu Links Palestinian Leadership with the Nazis" »