Western Muslims waging jihad and "inspiring" others to slaughter in the cause of Islam.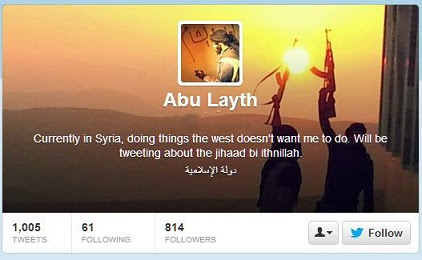 "Abu Layth Al-Khorasani," who began tweeting in June 2013, is, according to his tweets, a Salafi of Khorasani (Afghan) origin who grew up in the U.K. His early tweets focused mainly on Islamic da'wa and the preaching of Salafi values. He also appears to have been in Afghanistan during Ramadan (July-August) 2013.
In October 2013, Abu Layth travelled to Syria with two or more other jihadis, presumably from the U.K.; this was determined by accounts by one of the jihadis he travelled with – Abu Qa'qaa' (for Abu Qa'qaa's account, see MEMRI Special Dispatch No. 5529, On Tumblr, British Member Of ISIS Who Recently Arrived In Syria Opens Q&A Session With Readers, Explains How He Reached His Destination, Quotes Bin Laden And Al-Awlaki, Speaks About His Jihadi Companions, November 20, 2013). As of this writing, Abu Layth has posted 1,005 Tweets and has 829 followers. 
Abu Layth is one of many Western jihadis in Syria who are using Twitter and other social media to share their experiences.
The following are tweets by Abu Layth following his arrival in Syria: