Obama says the Taliban "are not our enemies."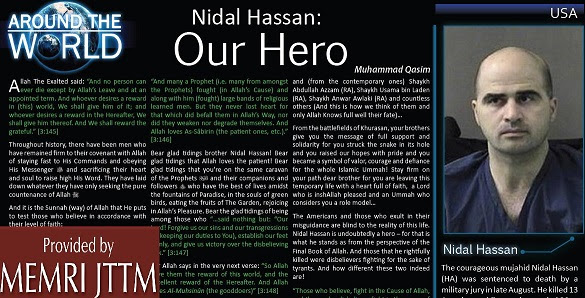 The latest issue of the English-language jihadi magazine Azan, which is published by the Taliban in Khurasan (Afghanistan-Pakistan region), carries several articles urging Muslim youth in the West to launch attacks in their homelands, and pays tribute to Maj. Nidal Hasan, the U.S. army officer who was convicted of a jihadi attack at Fort Hood in November 2009.

The magazine, the fourth issue since it began publishing early this year, was released through a jihadi website. An article titled 'Nidal Hassan [sic] – Our Hero', written by Muhammad Qasim, carries the following words along with his photo: 'The courageous mujahid Nidal Hassan… was sentenced to death by a military jury in late August.
He killed 13 American soldiers and wounded 30 at Fort Hood just before they were going to be deployed to kill Muslims in Iraq and Afghanistan. We encourage every Muslim in the Armies of the Kuffar to follow his example in repenting from their current state and killing as many of the enemy as possible.'