Obama is working with these savages. This is what America has become under this quisling. Obama should be backing the Kurds (who recently established an independent state) and the religious minorities that would be safe there.
Seven Islamist groups announced the formation of "The Islamic Front", an alliance aimed at toppling Bashar Al-Assad's regime and replacing it with an Islamic state in Syria . The new alliance, announced Friday, November 22, 2013 in a clip aired on Al-Jazeera TV,, includes the following groups: Ahrar Al-Sham, Jaish Al-Islam, Liwa' Al-Tawhid, Liwa' Al-Haqq, Suqour Al-Sham, Ansar Al-Sham and the Kurdish Islamic Front. Al-Qaeda's Syrian affiliate,, Jabhat Al-Nusra, and the Islamic State of Iraq and Syria remain outside the new alliance.

Suqour Al-Sham's leader Ahmad 'Issa Al-Sheikh, was appointed to head the Islamic Front's shoura council; Jaish Al-Islam's leader Zahran 'Aloush, was appointed it's the alliance's military commander; and Aharar Al-Sham's leader Hassan 'Aboud will serve as its political director.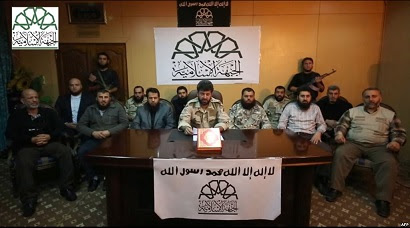 Ahmad 'Issa Al-Sheikh reading the Islamic Front's founding statement. Source: AFP, November 22, 2013.