The "first Sharia-based justification" for attacking NATO, the US and her allies was offered by Islamic clerics.
It will be just short of amusing to listen to the apologists and taqiyya dissemblers explain how Islamic clerics are getting it wrong, you know -- "misunderstanding" Islam.  Queue up, "blame the islamophobes!"
Pakistani Clerics: 'NATO Supplies Carry Goods For The Kuffar [Infidels] Which Are Used Against Muslims And Islam; As Per Sharia, It Is A Duty On The Rulers To Stop Them'  MEMRI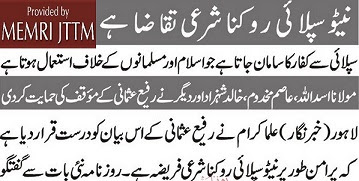 In Pakistan, where activists of Imran Khan's Pakistan Tehreek-e-Insaf (PTI) party have been recently protesting against the U.S. drone strikes by stopping U.S. and NATO supplies going to Afghanistan through Pakistani territory, several Islamic scholars have offered sharia-based justification for stopping the NATO supplies.

The first sharia-based justification for stopping NATO supplies was offered just days after the November 1 killing of Tehreek-e-Taliban Pakistan (TTP) emir Hakimullah Mehsud in a U.S. drone strike. According to a report on the website of The Express Tribune daily, the clerics called for stopping NATO supplies and the destruction of the U.S. drones flying over Pakistan.
These clerics included: Maulana Saleemullah Khan, president of Wafaq ul-Madaris al-Arabia; Mufti Mohammad Rafi Usmani, president of the Jamia Darul Uloom Karachi; Mufti Mohammad Taqi Usmani, vice president of the Jamia Darul Uloom Karachi; Dr. Abdul Razzaq Sikandar of Jamiyat-ul-Uloom al-Islamiya Binori Town; Maulana Qari Mohammad Hafeez Jalandhari and other Islamic scholars.