More international jihad .....
Following are excerpts from a video featuring "Abu Mansour," a Finnish national fighting with Al-Qaeda in Syria, which was posted on the Internet on December 10, 2013: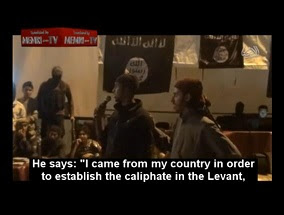 Interviewer/interpreter: "What is your purpose in coming here? You left your family behind. What are your reasons? Why?

"He says: 'I came from my country in order to establish the caliphate in the Levant, because under the caliphate, there will be justice for all – Muslims, Jews, Christians, and all other beliefs, because there is nothing more just than the shari'a of God.'"