The Saudis are outraged? Since when? Who are they kidding? This is par for the course. We see Saudis keep slaves here in the States and the Saudi government posts their bail.
Abuse video shocks Saudi Arabia by Mohammed Jamjoom, CNN November 1, 2013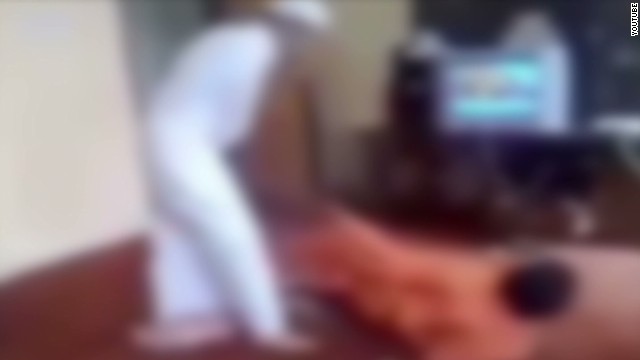 (CNN) -- A video that appears to show a Saudi man beating a migrant worker is causing growing outrage in Saudi Arabia.

In the amateur video, which went viral after it was posted on YouTube, a male worker in an orange jumpsuit is first seen sitting on a floor, scared and submissive.

A man who government officials believe is Saudi begins tormenting the victim, angry because he thinks the worker has spoken to his wife.

"Why did you come here when she was here?" he asks in what sounds like Saudi-accented Arabic.

"I swear I didn't mean it," pleads the man, who from his clothes and accent appears to be a migrant laborer, adding, "I swear to God I didn't know."

The abuser begins slapping his victim as he continues questioning him, demanding to know why the worker would dare contact his wife.

Officials aren't sure where it happened, but they're looking into it.

The Saudi government-backed Human Rights Commission has condemned the video, telling CNN it launched an immediate investigation.

"We are taking this very seriously and are looking into it with Saudi security," said the commission's Mohammed Al-Madi. "We are doing our utmost to ensure the accused abuser is arrested and tried. We are also doing everything we can to find the abused man, so that we can help him in any way."

CNN cannot independently verify the authenticity of the video, but another Saudi government-backed human rights group, the National Society for Human Rights, is also investigating.

"We don't know where it took place, but it is under investigation and we'll release details in a few days' time," said Mifleh Al-Qahtani, president of the society.

As awful as the incident captured on video is, it is not an isolated one. Global human rights groups have documented widespread abuse of migrant workers in Saudi Arabia.