And their biggest ally in their efforts to establish this Islamic state is Barack Obama. He's arming them.
Jihad Fighters From Denmark Call On Western Muslims To Join Them In Syria MEMRI September 3, 2013 (thanks to Claude)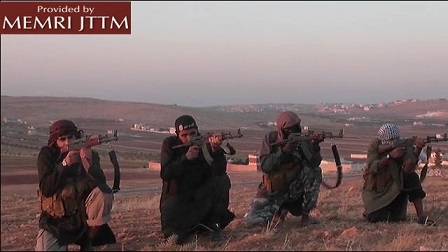 In recent weeks, a number of videos featuring jihadis from Denmark currently fighting in Syria have surfaced on jihadi social media pages. These videos show the Danish jihadis addressing Muslims in the West and urging them to join the jihad in Syria, and stressing that they intend to fight "infidels" in Denmark and in Western countries as well.

The videos appear to indicate that there is a significant group of Danish jihad fighters in Syria, and show their leader Abu Moussa and an individual by the name of Abu Khattab, as well as several other fighters who are masked.

Jihad In Syria Is A Stepping Stone To An Ideal Islamic State That Will Control More Than A Third Of The Globe
In an interview which recently appeared on YouTube, Danish jihadi Abu Moussa explains why he left a family and an excellent career in Denmark to wage jihad in Syria. Victory in Syria, he believes, represents a stepping stone in building the ideal Islamic state; he expresses his hope that the current Muslim expansion will eventually surpass the high mark of the Islamic expansion 1,400 years ago.

It should be noted that Abu Moussa is probably the same Abu Moussa who led the Kaldet Til Islam (Call to Islam) group in Denmark, which advocated an extreme form of Islamism and was associated with other radical groups in Europe.

In the interview, Abu Moussa, a Danish citizen of Pakistani origin, claims that he left Denmark and renounced both material benefits and family in order to meet Allah his creator, and that his encounter with Allah surpasses all worldly goods. He is amply compensated for the separation from his family, he says, as he is part of a new family of co-believers, who share his goal of an Islamic state. Learning Arabic, bonding with Islam, and enjoying the hospitable reception of Syrian Muslims are part of his new family experience, he says.