He needn't worry. Obama is steadily chipping away at that alliance.
Al-Zawahiri Issues Directives For Jihadi Work; Says Main Enemy Is Crusader-Zionist Alliance, Calls To Focus On Da'wa To Increase Awareness Among Jihadi Vanguard, Muslims In General MEMRI September 13, 2013 (thanks to Claude)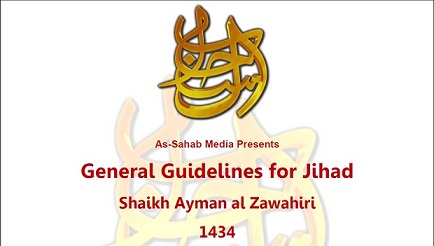 On September 13, 2013, Al-Qaeda media wing Al-Sahab released a document written by Al-Qaeda leader Ayman Al-Zawahiri, titled "General Guidelines for the Jihadi Work." The document sets Al-Qaeda's current and near future strategy on key matters. Al-Zawahiri says that Al-Qaeda has two main focuses: a military aspect, which he says is primarily directed against the U.S., and a da'wa aspect that is directed at Muslims in general.

In regard to the military aspect, Al-Zawahiri says that Al-Qaeda's main targets in that domain are the U.S., Israel, and their supporting rulers in the Muslim and Arab world. Targeting the U.S., he says, aims at weakening its economy. Despite keeping the door open to Al-Qaeda and its affiliates targeting local governments, Al-Zawahiri says that targeting the head of disbelief (i.e. the U.S.) should remain the main focus.

On the da'wa front, Al-Zawahiri says that its goal is to educate the jihadi vanguard about the responsibility that lies upon their shoulders in confronting the Crusaders and their proxies "until the Caliphate is established." Furthermore, Al-Zawahiri says that da'wa aims at raising the awareness within the masses in the hopes to mobilize them so that they revolt against their rulers and join the side of Islam and those working for its cause (i.e. the mujahideen).
Al-Zawahiri's guidelines also touch on a variety of subjects, such as the mujahideen's treatment of Muslims and non-Muslims; the importance of freeing Muslim prisoners, whether by executing attacks on the prisons holding them or by taking the citizens of those countries that are participating in the attack against Muslim countries hostage, as well as a variety of other topics.

The document, dated 1434 (2013), was released on the Al-Fida' jihadi forum in Arabic, Urdu, and English. It is noteworthy that the English document released by Al-Sahab reveals a lower standard of English than what is generally seen in Al-Qaeda's productions.

Following are parts of the original English document:

"...It is not a hidden secret that our work in this stage has two aspects: The first is military and the second is da'wa-related.

"The military work firstly targets the head of (international) disbelief, America and its ally Israel, and secondly its local allies that rule our countries...

"The purpose of targeting America is to exhaust her and bleed her to death, so that it meets the fate of the former Soviet Union and collapses under its own weight as a result of its military, human, and financial losses. Consequently, its grip on our lands will weaken and its allies will begin to fall one after another.

Click here to read the full report.