Muhammad al-Amriki ("Mohammed the American"): "You should come to Somalia"
More proof that borders, countries, race, are of no import in this war. And that is the fatal mistake the Obama administration and the European powers et al continue to make. They refuse to address the 800lb jihadi in the room. It's the ideology. It's jihad. Period.
'Martyred' American Muslim extremists still recruiting for al Qaeda in Somalia.
Al-Shabab Al-Mujahideen Video Presents Three Americans From Minnesota Who Died Fighting In Somalia MEMRI, Augusut 8, 2013
Note to media and government: For a full copy of this report, send an email with the title of the report in the subject line to media@memri.org. Please include your name, title, and organization in your email.

On August 7, 2013, the Somali Al-Qaeda-affiliated group Al-Shabab Al-Mujahideen released a 39-minute video about three Americans from Minnesota who joined the group and died fighting in Somalia. The video, titled "The Path to Paradise: From the Twin Cities to the Land of the Two Migrations [i.e. Somalia]," was released on the occasion of Eid Al-Fitr, and is apparently the first in a series of videos dedicated to Americans from Minnesota who have joined Al-Shabab. It was posted on top jihadi forums in two versions: Arabic and English.

According to the video, two of the Minnesotans who died are of Somali origin and the third is a Native American who converted to Islam. They came to train in Somalia in 2007-2008 and were killed in 2009.
The video includes footage of the three encouraging other young Muslims living the West to follow their example and come fight the unbelievers in Somalia.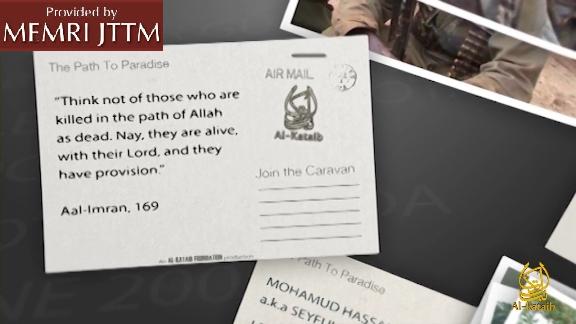 Click here to read the full report. 
To view this report, you must be a paying member of the Jihad and Terrorism Threat Monitor Project (JTTM).  For membership information, send an email to jttmsubs@memri.org with "Membership" in the subject line.