Obama's DoJ is pursing the same barbaric laws. The DOJ wants to police Social Media posts for offending  Muslims suggested it "may violate civil rights."
Obama is emulating his favorite and most trusted ally, Turkish PM Erdogan. Imagine, the President of the United States publicly heralds an Islamic supremacist who said, "The world should consider Islamophobia just like Zionism or anti-Semitism or fascism, a crime against humanity," at the 5th Global Forum of the United Nations Alliance of Civilizations (UNAOC) in Vienna back in February. Evil.
In October, 43-year-old Fazil Say went on trial in Turkey for "denigrating" Islam for a series of tweets earlier that year and was found guilty. In one of his messages he had retweeted a verse from a poem by Omar Khayyám, in which the 11th-century Persian poet attacks pious hypocrisy. This is the same thing.
Say, who was not present at the hearing, issued a statement calling the verdict "a sad one for Turkey". He denied the charges, saying they were politically motivated.

The 43-year-old went on trial in October accused of denigrating Islam in a series of tweets earlier last year. In one message he retweeted a verse from a poem by Omar Khayyám in which the 11th-century Persian poet attacks pious hypocrisy: "You say rivers of wine flow in heaven, is heaven a tavern to you? You say two huris [companions] await each believer there, is heaven a brothel to you?" In other tweets, he made fun of a muezzin (a caller to prayer) and certain religious practices.

Artists and intellectuals have repeatedly been targeted in Turkey for voicing their opinions, and Say's case has renewed concerns about the Turkish government's stance towards freedom of expression. The composer has been a vocal critic of the ruling AK party and Turkey's prime minister, Recep Tayyip Erdogan.

Erdogan and his government have been accused of wanting to dismantle Turkish secularism and of curbing freedom of expression. In a report published at the end of last month, Amnesty International called the lack of freedom of speech in Turkey one of the country's "most entrenched human rights problems". (more here)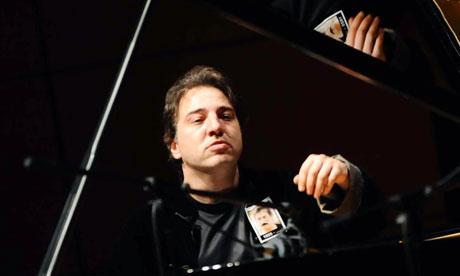 "Convicted pianist speaks out on lost freedoms in Turkey" Arts Journal, May 31, 2013  
Fazil Say, convicted by a Turkish court for insulting Islam, has spoken about the country's fading freedoms at a meeting organized by the International Federation for Human Rights (FIDH) in Istanbul. You can watch him below (in Turkish). He said, among other things:

- As individuals, we have to fight for our lifestyles and our existence, opinions, art and future under pressure. In the past few years, the epic speeches, attempts to discriminate one to another, and exploitation of religion increased in Turkey. Manipulations increased too. We cannot share our thoughts or art.

-Thousands of people received sentences for being dissidents. Many people are oppressed and frightened.

- It has now turned into a show of strength by the ruling party. The situation is worrying.

-The religious values and freedom of opinion might be conflicting but this should be settled by discussions and by staying friends, not by penalties. People must be free. (translation: Hurriyet Daily News).