The aspirations and achievements of the devout.
Faces Of Death: On Twitter, Jihadis Distribute Photos Of 'Martyrs' By: Steven Stalinsky, MEMRI

Introduction

Over the past few months, online jihadis have been posting daily on Twitter pictures of "martyrs" killed on jihadi fronts in Syria, Afghanistan, Yemen, Somalia, and elsewhere. These "martyrs" include prominent sheikhs, well-known writers on online jihadi forums, and ordinary fighters, from many different terrorist/jihadi organizations; they came from Middle East countries as well as from other countries, including some in the West.

These martyrdom tweets serve multiple purposes: publicizing the martyrs' last wishes, celebrating their actions, informing the martyrs' family and friends of their deaths, and especially inspiring others by portraying the martyrs as heroes who should be emulated.

The following is a sampling of martyrdom tweets, most from February 2013.

Warning – this report contains graphic images.
Tweets Announcing The Martyrdom Of Senior Al-Qaeda Leader Sheikh Khalid ibn 'Abd Al-Rahman Al-Husseinan
On January 30, 2013, "Comprehensive Military Library," a jihadi Twitter account which uses the handle @mktbh_askreih, posted pictures of the body of Sheikh Khalid ibn 'Abd Al-Rahman Al-Husseinan, a senior Al-Qaeda figure who was reportedly killed in a drone attack in Waziristan in early December 2012. The pictures, which have been circulated widely on Twitter, confirmed the death of the Kuwaiti preacher, whose lengthy lectures were produced by Al-Qaeda media wing Al-Sahab. According to the Kuwaiti daily Al-Watan, radical Salafi Sheikh Jaber Al-Jalahmah was the first to report Al-Husseinan's death in a Tweet posted on his account (@jaberALjalahmah) on December 7, 2012.
Hundreds of other jihadis tweeted the pictures.  For example, @mktbh_askreih wrote, "Allah accept Khalid ibn 'Abd Al-Rahman Al-Husseinan as a martyr and grant him 'Al-Firdaws Al-A'la' (paradise)."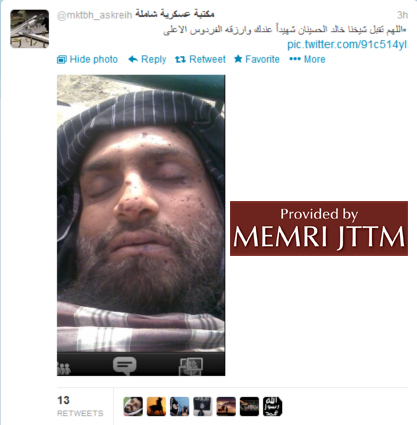 https://twitter.com/mktbh_askreih/status/296600152699965440/photo/1[ii]
32 Non-Syrians Who Were Martyred In Syria
On February 13, 2013, @FaresKm444 tweeted a large list of Muhajireen (meaning non-Syrians who were martyred in Syria), writing, "We ask Allah to accept them."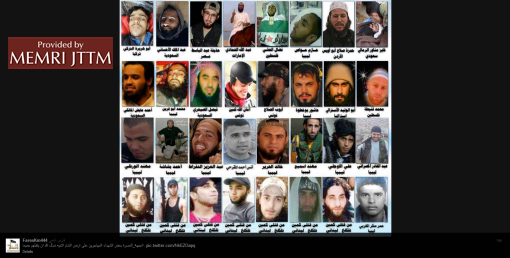 https://twitter.com/FaresKm444/status/301576136603865089/photo/1
"Why Does The Martyr Smile When He Dies?"
On January 14, 2013, @lashkegah tweeted: "Why does the martyr smile when he dies? Doesn't he feel the agony of death? Or has he seen his place in paradise? O Allah, do not spare us from it [i.e. paradise]."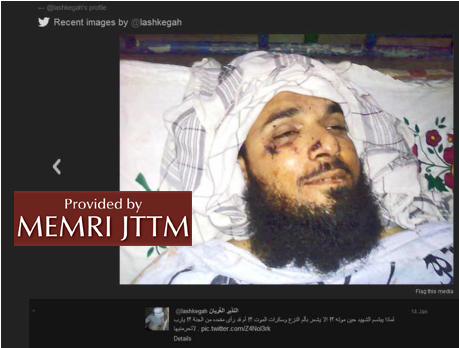 Martyr Zaid Al-Bawardi Abu Osama Al-Tamimi – Two Months After Martyrdom His Wounds Are Still Bleeding
On February 8, @Badry353 wrote: "The martyr, whom we believe to be Zayd Al-Bawaridi 'Abu Osama Al-Tamimi' got martyred as we believe in the Battle of Yaacoubia in the reef of Idlib on January 24, 1434 [of the Islamic calendar]. The picture is from two months after his martyrdom. May Allah accept him. His wound doesn't stop flowing blood."

https://twitter.com/badry353/status/299857418974810112/photo/1
Saudi Martyr Abdulaziz Alsuwaid: He Dropped Out Of College To Join Jihad
On December 31, 2012, @ImaQh tweeted information about another martyred Saudi in Syria.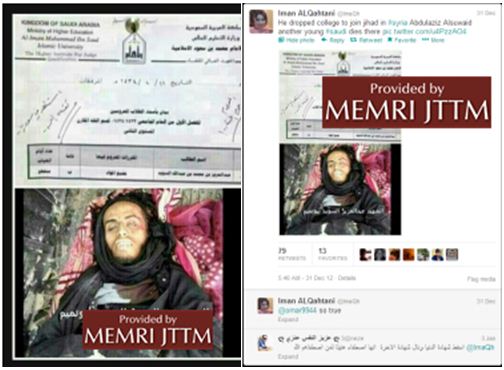 https://twitter.com/ImaQh/status/285743715576840192/photo/1
Tweets Announcing The Martyrdom Of Two Popular Saudi Sheikhs
Reports of the death of two popular Saudi Sheikhs resonated through pro-jihadi and Syrian opposition social media accounts in early December 2012. In hundreds of tweets their "martyrdom" was praised. See tweets bearing the hashtag: #الشهيد_عبدالله_الحسين and #عبدالعزيز_الجغيمان (Abdallah Al-Hussein and Abd Al-Aziz Al-Jaghiman)


"[Words addressed to clerics or to rulers]: Whether you opened the gates of jihad or you didn't, the men and the heroes of Saudi Arabia leapt to jihad in the land of Syria. Allah will bring back to life our heroic people Abdalaziz al-Jaghiman and Abdallah Al-Hussein."
Abdallah Al-Hussein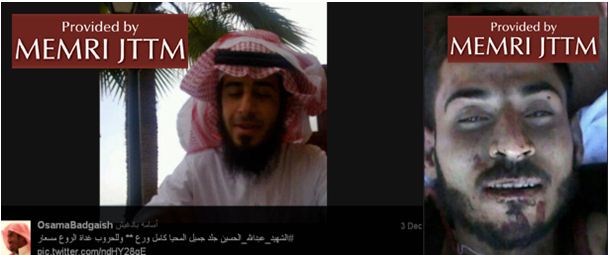 https://twitter.com/OsamaBadgaish/status/275795996083097601/photo/1