And all the self-righteous leftists and enemedia reporters who have excoriated our ad never say a word about this jihadist savagery.
Attack on Sunday school leaves child dead, others wounded, Red Cross says CNN, September 30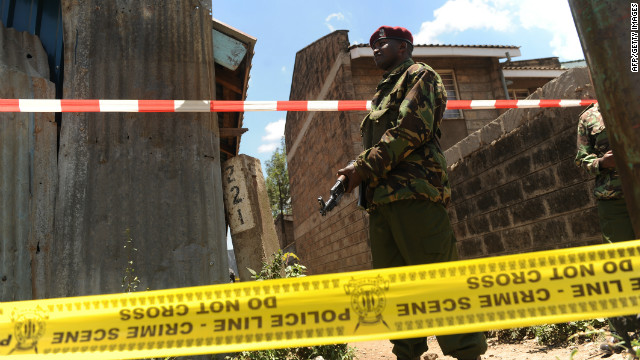 A policeman stands guard next to the scene where a blast ripped through a church in Nairobi on September 30, 2012.
Nairobi, Kenya (CNN) -- One child died and several others were hurt in a grenade attack on a children's Sunday-school class in Kenya, the Kenya Red Cross said.

A Kenyan hospital reported seven children wounded.

The Kenya Red Cross and local media described the incident at St. Polycarp church in Nairobi as a grenade attack. Government officials did not answer repeated telephone calls from CNN seeking comment.

Four injured children were admitted to Kenyatta National Hospital -- two for treatment of critical wounds, said Dr. Mutie Thomas, the hospital's senior assistant director.

Doctors treated and released another three people, Thomas said.

The injuries involve soft tissue damage, head wounds and broken bones, Thomas said.

The children were between the ages of 7 and 10.

The Kenya Red Cross tweeted that one child died, and that "six critical children" were taken to a hospital.

Such attacks have escalated since Kenyan forces invaded neighboring Somalia last year to battle the Islamist militant group al-Shabaab, blaming it for kidnappings of foreigners in the nation.