UPDATE: Speaking of Muslim Brotherhood-led Friday prayers ...... CAIR's home office is on it.
"We go where the leads take us." Ray Kelly, NYC Police Commissioner

Photo: Gerard

In their continuing jihad against law enforcement's ability to thwart and pre-empt Islamic attacks on US soil, the Muslim supremacist groups (in league with anti-American leftist useful idiots) prayed and protested today against the NYPD and the CIA. The seditious protest was joined by about 50 members of the #OWS Occupy Wall Street movement, who marched to Foley Square chanting "Surveillance is violence, we won't remain silent!" All of these groups share the same hatred ..... of America.
Back on October 6th, Muslim Brotherhood-linked CAIR testified on counter terrorism measures taken in post-911 Manhattan (see the CAIR alert below). That's like OJ working the phones for the National Domestic Violence Hotline. Who on the NYC Council asked CAIR to testify? Make this a campaign issue and kick that traitor out of office.
On November 2nd, I published their next attack on law enforcement. A protest against our line of defense against our bloody and ruthless mortal enemy. This is a relentless enemy we are dealing with.
New York -  Hundreds of Muslims prayed in lower Manhattan and planned a march on New York Police headquarters Friday to protest a decade of NYPD spying inside Muslim neighborhoods.

The traditional Friday call to prayer echoed off the cold stone of government buildings as people, bundled in winter clothes, knelt in prayer on a blue tarp.

"We are unapologetically Muslim and uncompromisingly American," imam Talib Abdur-Rashid told the crowd of about 500 gathered in Foley Square, not far from City Hall and local courthouses.

To Mayor Michael Bloomberg and Police Commissioner Raymond Kelly, he added, "We want for you to respect us and we will respect you."

"Had this been happening to any other religious group, all of America would be outraged," said Daoud Ibraheem, 73, a retired graphic artist from Brooklyn.
If any other group were responsible for over 18,000 attacks since 911, all America would be outraged.
Many of these programs were built with the help of the CIA as part of an unusually close collaboration that is now the subject of an internal CIA investigation.

"There's a wrong that we have all been made aware of," said Abdur-Rashid, of the Mosque of Islamic Brotherhood.

He said it was no secret that police have been watching mosques. But the news that the NYPD was monitoring everything from Islamic schools to restaurants was unacceptable.

"We're peaceful people," said Dalia Nazzal, 18, a freshman at the City University of New York, the target of police infiltration. "We don't deserve to be under surveillance."
Agitators carried signs that said "NYPD Watches Us. Who Watches NYPD?" and "NYPD/CIA: Hands Off Our People."
Note all the men at the protest but all the women in the poster (with the jihad war scarfs, of course). Yasser Arafat would be rubbing his hooves in glee.
Demand 1: An immediate end to all racial, ethnic and religious profiling.
Sounds laudable doesn't it?
Who made Islam a race, an ethnicity? This is another plank in the ship pf the demonization of all criticism of Islam.

Demand 2: The dismantlement and disclosure of all surveillance operations.
We are to submit, but it is not sufficient merely to dismantle, we must also disclose, so they are made aware of any chinks in their armour, where their security is weak and where there are informants for them to eliminate.

Demand 3: An independent commission to investigate all NYPD and CIA operations against the Muslim community.
In the their lexicon "independent" means "we want our place-men in on it". They don't mention the FBI - they think that they have already de-clawed and de-fanged that body. By "Muslim community" they mean the umma, worldwide. The CIA guards against external threats to US security. They make no mistake: they want to know what we know about links between their domestic and international organisations, and to supress or halt any sharing of intelligence by US law enforcement and security bodies that was instituted or improved post 9/11. Also, note the wording "against the Muslim community" - they don't want to be seen to be opposing actions preferring the security of all US citizens to their right to wage globalised jihad. The use of the word "against" is deliberate, implying that NYPD and CIA is exercising discrimination against Muslims rather than for all US citizens.

Demand 4: The immediate protection to our right to freedom of worship, free speech and free association.
The US Constitution and independent judiciary together are already sufficient to protect their rights, but they want recognition of special rights and they demand an act of submission to feed their supremacism. The undisclosed subtext? Their understanding of the word "worship" includes access for da'wah in schools, in the armed forces, in intelligence briefings... - in fact everywhere they choose, it includes the freedom to pay zakat to fund terrorist linked organisations and armed jihad operations, it includes the mosquing of the workplace and halting production lines for prayer times, and it includes the removal of all symbols of Christianity and Judaism from public view (after all they do have the right to pray in the street and stop traffic don't they). Their "free speech" includes hate speech such as the demonizing of Jews and vilification of gays, but of course excludes any and all criticism of Islam by kuffar. Their "free association" covers the continued functioning of known Muslim Brotherhood fronts.

Demand 5: The equal potection, under the law, of Muslims, and all people of New York.
Sounds laudable doesn't it?
But whose law, what law. US or Shariah? They carefully don't say.
When will we see CAIR testify in a federal trial (US vs CAIR), charged with co-conspiracy in the largest Hamas funding trial in our nation's history? The Obama criminal administration scuttled the Muslim Brotherhood prosecutions at the DoJ. That will all change in November 2012, when we purge this subversive regime and their embeds.
UPDATE: American Rattlesnake was there and has complete coverage, here. Excellent:
There was a sparse crowd at the beginning of the rally: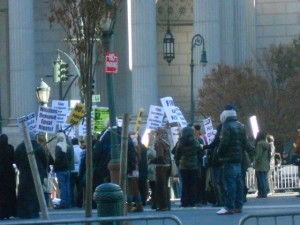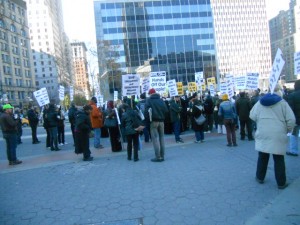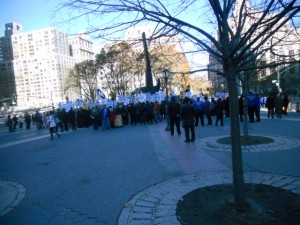 But it began to fill up as the day progressed. I'd estimate that there were somewhere between 70 and 85 people at the height of the rally, including the ubiquitous, green-hatted members of the Marxist National Lawyers Guild.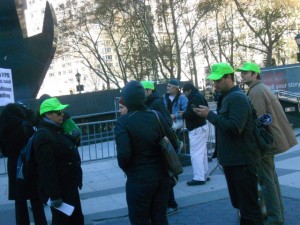 As well as the self-consciously imposing Muslim "toughs" acting as security for the day's speakers.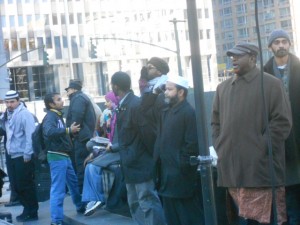 This is a banner from the Muslim Solidarity Committee, an organization founded in order to raise funds for the family members of Yassin Aref and others convicted of rendering support to the Pakistani terror organization Jaish-e-Mohammed.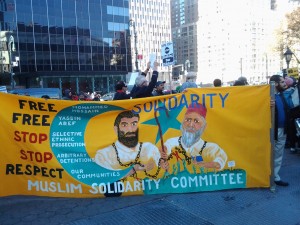 There were scads of lawyers and law students present, including those from the City University of New York: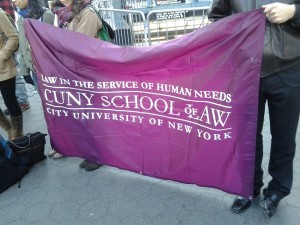 And lots of praying, including the adhan, which is not nearly as mellifluous as some people would have us believe.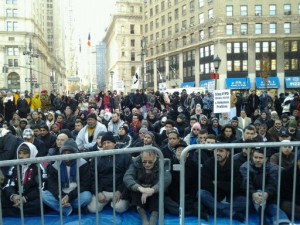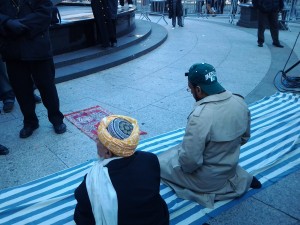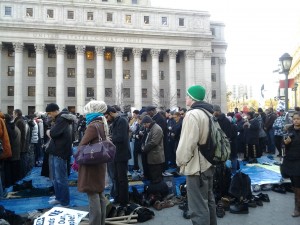 I wasn't keeping track, but I did count at least three separate prayers during the time I was there.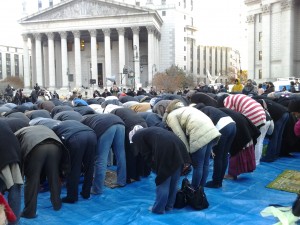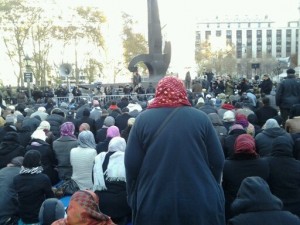 And where there's Islam, there's proselytization: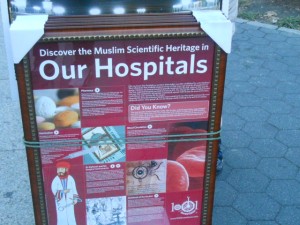 There was no love lost between those in attendance and the New York Police Department.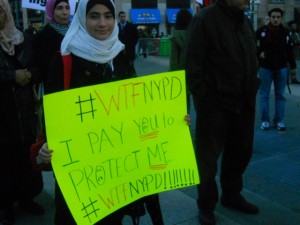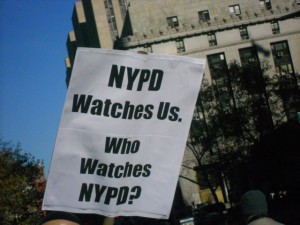 Not that the Central Intelligence Agency was a fan favorite either.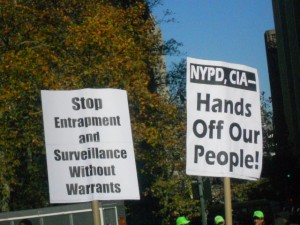 Police Commissioner Ray Kelly was a frequent target of enmity, with calls for his dismissal echoing from the speaker's podium and the crowd.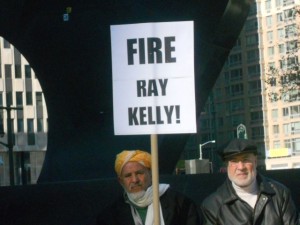 Most speakers tried to draw a parallel between the Occupy Wall Street demonstrations that had taken place only a few blocks away, at Zuccotti Park, and today's festivities. To be fair to the Muslims, they at least had a semi-consistent message going for them.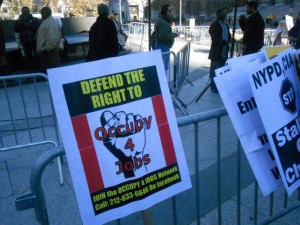 Not that inveterate, elderly Marxists didn't try to muddle things a bit.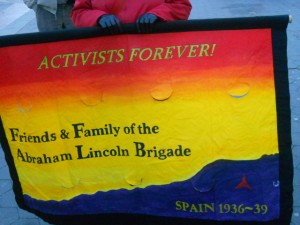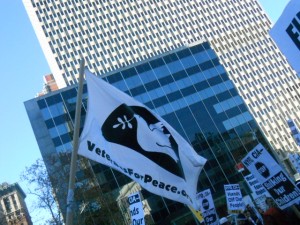 Speaking of Marxists, I ran into this gentleman, who denounced "all religions" and talked over one of the many calls to prayer-for which he was chastised by a Muslim participant in the crowd. Perhaps the Red-Green alliance isn't all it's cracked up to be, as the Mujahadeen e-Khalq learned the hard way.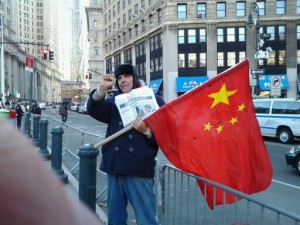 One of the more disconcerting images from the rally in Foley Square, aside from the representative of CAIR praising the Detroit imam who was shot by the FBI, was the presence of both the mother and father of three men who were part of the terror plot involving an attack upon Fort Dix. Even though they were not given prime speaking slots-as was the mother of one of the men convicted in the Herald Square bomb plot-the fact that their case was used as an illustration of law enforcement overreach led me to question the true motives of those behind this demonstration.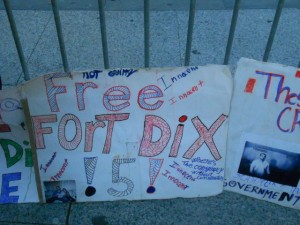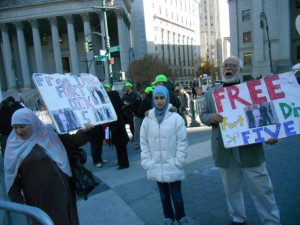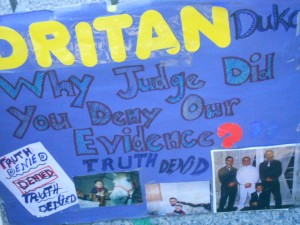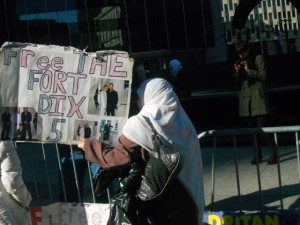 They knew who the real guilty ones were, i.e. the people assisting the prosecution of terrorist suspects: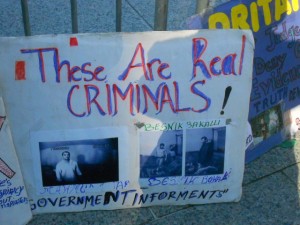 Many of the speakers denounced the notion of government informants, evoking images of the more widespread stop snitchin' campaign prevalent among many African-Americans living in urban communities. Overall, it was a slightly dispiriting experience, although it should be noted that there was at least one East Indian speaker who struck a distinctly conciliatory tone, and yet another speaker who went so far as to commemorate the massacres that occurred on September 11th, 2001, albeit only in the context of condemning other atrocities he saw as being of greater magnitude, e.g. the trans-Atlantic slave trade, expulsion of Native Americans from the interior of the country, and countless other sins we still haven't atoned for as a nation, according to him.
Gerard has much more. Go.