Who elects these giant pussies? What is it about politics that attracts the most spineless and gutless of humanity? It's to laugh, it's to cry.
Such cowardice is breathtaking. Over at Creeping:
It didn't take long for San Fran police chief, and now chief dhimmi, George Gascon to submit to Islamic pressure as we told you he would (here). via abc7news.com.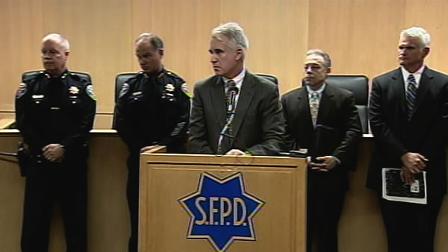 SAN FRANCISCO (KGO) — San Francisco Police Chief George Gascon is publicly meeting with members of the local Arab-American and Muslim communities to offer a big apology.
The communities are angry about remarks the chief made last week. They say he implied that some members of the local Middle Eastern community pose a terrorist threat to the city.
Gascon has already apologized several times after pitching a bond measure for a new police headquarters, and noting significant populations from Yemen and Afghanistan live in the Bay Area.
Friday afternoon, he'll listen to personal testimony from those who were offended at the Holiday Inn Hotel on Van Ness Avenue.
Again, Gascon should not only be listening like a good dhimmi, he should be asking the Muslim and Arab malcontents why they were silent when 3 Muslims were driving around San Fran shooting people, with a BB gun rifle, they thought were gay and video taping it, here. Gascon should also listen to personal testimony from victims of Islamic terrorism and sharia law. That will never happen and there will be no one at the meeting to counter the false accusations and over-hyped Islamic victimization that will likely be on display. One can only venture at what demands will be placed on the SFPD and how many follow up meetings Gascon will agree to, and how soon CAIR will be giving dawah training to submit the entire SFPD to Islamic lies.

Further, Gascon should ask the stealth jihadists if they support sharia law or the Constitution, if they support Islamic punishment for a large percentage of the San Fran population that is gay, and many other questions regarding the intolerance of Muslims towards non-Muslims.