On April 24, 1915, the most important figures of the Armenian community in Constantinople - newspaper editors, writers, churchmen, Armenian intellectual leaders and even parliamentarians, were taken from their homes and summarily deported to remote regions. Most were never heard of again. Armenian society in the Ottoman Empire had just been decapitated.

When the Turks and Kurds carried into effect the horrible massacres and the genocide against the Armenians in 1915, it was more than the little Danish woman could bear. The Turks forced women and children together on death marches and drove them ruthlessly south in endless caravans of human flesh, while missionaries who saw the brutalities stood powerless. Soldiers were posted at doors and on rooftops, and supplications by missionaries to government officials to help the sick was rejected by officials who said they had already sent physicians and nurses with the deportees. But just as sheep are led to slaughter the Armenians were driven out of town, beyond the highlands and plains where, hidden from view, an orgy of death began of terrible abuses and horrible murders. Thousands upon thousands of Armenians were murdered in the most bestial of methods. Dead bodies lay on the roads. There was neither nurses nor doctors to move them, as trucks and wagons drove over the dead.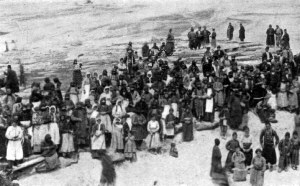 1915. Armenian intellectual leaders were murdered or publicly hanged to spread fear among the Armenians of the Ottoman Empire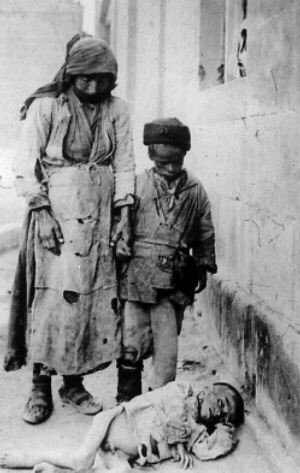 1915. Survivors of a family stand powerless before a dying family member during the massacres
1915. A group of children lament their torment as they wait to be received into "," Maria Jacobsen' children" home in the town of Harpoot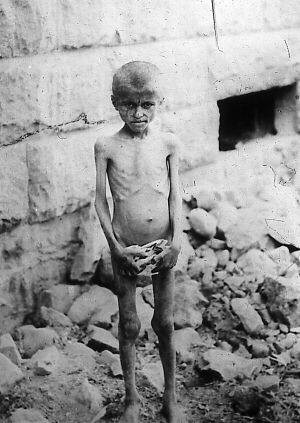 1915. One of many orphaned Armenian children found naked and starving, drifting aimlessly amid the ruins of a house
This should be interesting. Obviously the Muslim world thinks it can bully the US President. Let's watch and see if Obama heeds the decent and humane call from the American people, or heeds Islam.
Change you can't believe in.
And my, my isn't Turkey very ...... thin-skinned and sensitive, considering its propensity for genocide? The Turks should be busying themselves apologizing and making amends, as Germany did after WWII. But no. Instead the non-Muslim world is still doing their stepping and fetching and covering up for over a millennium of jihad wars, land expropriations, enslavements, and humiliations of the conquered non-Muslim populations on three continents -- and genocide.
Turkey urges US to block 'genocide' bill or risk ties New Age

Turkey urges US to block 'genocide' bill or risk ties A furious Turkey warned of damage to its ties with the US and protesters descended on the American embassy on Friday after a Congressional panel labelled the Ottoman-era massacre of Armenians as genocide.

Having recalled its ambassador immediately after the panel's resolution was adopted, Ankara warned Washington risked a showdown with a key Muslim ally if the motion advanced to a full vote at the House of Representatives.

Turkey is "seriously disturbed" that President Barack Obama's administration "did not put enough weight" behind efforts to prevent the resolution from being passed by the Foreign Affairs Committee, Foreign Minister Ahmet Davutoglu said.

"We expect the US administration to make more efficient efforts from now on," he said.

"We hope Turkish-US ties will not be put to a new test ... otherwise, the prospect that we will face will not be a positive one," he added, calling the issue a "matter of national honour".

NATO member Turkey is a prominent Muslim partner in US efforts to stabilise Afghanistan and Iraq, and lies on a key route taking oil and natural gas to Western markets.

The committee passed the non-binding resolution Thursday by a 23-22 margin, ignoring pressure from Turkey and the White House.

President Abdullah Gul has warned that "Turkey will not be responsible for the negative ramifications" of the vote.

As Turkish anger swelled, a crowd of around 100 demonstrated outside the US embassy in Ankara, laying a black wreath that read "We did not commit genocide, we defended the motherland."

Protesters chanted anti-US slogans at a similar demonstration in Istanbul.
This is rich:
"We are determined to normalise Turkish-Armenian ties but we are against this being secured through the intervention of third parties and through pressure," he said.
How can you normalize relations when you mass murdered close to two million of their people and won't admit it or express regret and apologize?
The non-binding resolution calls on Obama to ensure that US foreign policy reflects an understanding of the "genocide" and to label the mass killings as such in his annual statement on the issue.

Following US-backed talks to end decades of hostility, Turkey and Armenia signed a deal in October to establish diplomatic relations and open their border.

But the process has already hit obstacles, with Ankara accusing Yerevan of trying to tweak the terms of the deal and Yerevan charging that Ankara is not committed to ratifying the accord.

The government of Azerbaijan, a close ally of Turkey which is locked in a conflict with Armenia over the disputed Nagorny Karabakh region, also warned of damage to US interests.

"This unilateral decision was accepted under pressure from pro-Armenian congressmen. It contradicts the state interests of the United States and the interests of the American people," Ali Hasanov, a senior aide to Azerbaijani President Ilham Aliyev, told AFP.

Azerbaijan is a key partner in US-backed energy projects in the Caspian Sea.

Armenians say up to 1.5 million people were killed during World War I as the Ottoman Empire was falling apart, a claim supported by several other countries.

Turkey argues 300,000 to 500,000 Armenians and at least as many Turks died in what was a civil strife when Armenians rose up against their Ottoman rulers and sided with invading Russian troops.

Washington has traditionally condemned the killings, but refrained from calling them a "genocide", anxious not to strain relations with Turkey.

US Secretary of State Hillary Clinton had urged the committee not to hold the vote for fear it might harm Armenia-Turkey reconciliation.

During a visit to Turkey in April, Obama said he retained his view that the killings amounted to genocide but stressed that reconciliation between the two neighbours was more important.
How do the Armenians reconcile the fact that their genocide won't be called a genocide in a dhimmi world? That's what it is. Islamic supremacism and dhimmitude.