Tehran Bureau over at Twitter:
A voice from central Tehran earlier this morning (Sunday 21 June):

[Translated] Things are so bad. They are massacring people here. Please tell Obama not to officially recognize Ahmadinjad. He's not our real president. He's a dictator. Please tell people that in Tehran they're massacring people.

There's nothing going on today. There was talk of something at 10 in the morning [Tehran time] at Enghelab [Square, presumably] but nothing happened. They had said [at the] UN [?]… I don't know if it will take place or not. People are scared. They [officials] kill. THEY KILL.

A voice from central Tehran earlier this morning (Sunday 21 June):
If Obama moves to support the demonstration in strong terms, this camp will lose and Ahmadinejad will gain ground; also it is not good to make an American domestic issue from an Iranian domestic issue. Yesterday was brutal, but not as brutal we still do not know how many were killed, but from the set up of the riot police it is apparent that they want to keep people off street with the least casualty possible. This is not a praise, it is to say that government does not want to escalate things.

If there is no demonstration today it does not mean it is over. This is just the beginning. The focus is on having an election.

You must see the people, this is a people united, all groups and sections are out there, war veterans, old revolutionaries, housewives. The first girl I saw beaten yesterday was wearing a chador, this is not a western thing here, this is a domestic issue in which Iranian people have the right to demand a new election.
4:20 p.m. NY Times reports: Relatives of former President Ali Akbar Hashemi Rafsanjani say all five members of his family, including his daughter, Faezeh Hashemi, have been released by Iranian authorities. As we noted this morning, state television said five members of the Rafsanjani family had been arrested on Saturday night.
Photoshop hat tip: Jim Brown via Carl
Iran Blames 'Dirty Zionists' (perhaps there will be street protests by the leftists and the ummah across the world now?)
4:20 pm: Rich Lowry over at NRO: The Iranian Revolt [Rich Lowry]
John O'Sullivan wrote me this note today.
Dear Rich,
Thanks for your note. I am happy to give you my judgment on the Iranian revolt. In brief, it's one of the most important movements of our time. It radically undermines both the realist argument that Muslims are uninterested in democracy and the Jihadist claim to represent the mass of Muslims. And if it continues—whether it is crushed or triumphs in the immediate future—it will add immeasurably to the forces of evolutionary change in the Muslim world since it strikes me as being more like the Glorious, American and "velvet" revolutions (i.e., it is a revolution against a radical revolution) than like the French, Bolshevik, and 1979 revolutions.
[...]
The first is a private e-mail form my senior colleague, Abbas Djavadi, a former head of Farda and now the Associate Director for the service as a whole. I had asked him to predict what might now happen. Here is his reply (which I quote with permission) from a hurried discussion yesterday: 
Defiance? Definitely, but I don't know for how long. Nobody says it loudly but everybody understands this is about the Supreme Leader and not only Ahmadinejad. Yesterday after Khamenei's speech I thought they would back off. Today in the morning I thought it may be primarily students. This afternoon surprised me. Not only students, not only Tehran. Maybe Mousavi has been pushed up as opposition leader against will. He had the motivation for it for the last 20 years when he kept away from government. He seems to be emboldened now, seeing the masses and the ripening of something in the society, in "masses" and in most big cities.
I wish I could know if it would continue and how. I think nobody knows. I am seeing here two big issues, based on what I am hearing and reading the live inputs and feedback from the "foot soldiers":
1) Mousavi has to further establish himself as a popular leader. Today he again said he has prayed to God that he is ready for martyrdom, sign of strengthened resolve. He needs support from more, hundreds of thousands and millions of middle and upper classes (villagers never attended the Islamic revolution 1979, workers joined just in the last few months of the revolution, middle class did it with a bit upper classes). Bazaris, for example, teachers, doctors, vendors, municipality workers, mid-level state employees, lawyers... And the most important: he needs to get more support from moderate or other clergymen opposed to Khamenei and Ahmadinejad — people who have been critical, but have rarely spoken out. If we have that trend growing in the next few weeks and months, we will have a new ball game in Iran. If not, the resistance will gradually fade out while reprisals intensify.
2) Security and organization as well as communication of the opposition leaders (Mousavi and Karroubi). Today and last weeks were typical. Will they join the demonstrations? Are the meetings cancelled? There were hundreds of conflicting news, information and disinformation until it really happened. And it happened, mainly thanks to the websites, Facebook and Twitter. 20 years ago it would be unimaginable. But the communication is distorted and disorganized. Security for the leading figures is also extremely important. What if Mousavi just disappeared? (detained, under strict house arrest) etc.? Khomeini in 1978 had the security provided to him in Paris and his big group of executives in Europe instructing his army of mullahs inside Iran what to do and how to lead the movement. In the case of Mousavi, once he is out of the country, he would be disregarded and would play no role after a year or so at all. [Yet] staying safe in Iran while the movement is intensifying is a contradiction per se. And we don't have any relieving indications that they are well organized. That's also bad. Things may change and would change if both the defiance continues and if the leadership grows together with the defiance.
That is the judgment of a shrewd and experienced observer of Iranian politics.
The second item, just below, is the most recent in a series of letters from Tehran by one of the many opposition protesters. Much of the time the Western media has to post items that cannot be confirmed. I'm not criticizing this. We all have to do it in these circumstances and, provided we are absolutely candid with our readers and listeners, they can judge the worth and reliability of such reports. But our services are fortunate in having ordinary Iranians whom we know and trust to keep us informed in very vivid personal accounts. The writer below is one. I think you'll be impressed by what he writes.
[....]
Dogs of war
We started our march somewhere close to the Tehran University.  Near the gates of the University the "Dogs of war" (including all of the militia, police, guards, sarrallah, plain cloth paramilitary,..) pushed people to the south side of the street beating anyone near the gate and we found out why as Hooman (who is about six feet tall) reported to us "daneshjoo haa daran shoar midan,…" (the university students are chanting behind the gate and the dogs are standing right outside the gate) he reported.  We saw about 100 guards in black armors that looked like a full blown Japanese Samurai army facing the gates of Tehran University which was and is a symbol of defiance (the picture of people demonstrating under the gates of Tehran University are printed on some money notes). By the time we got to Enghelab square tension was mounting.  People were walking in small groups of five without chanting and without showing off any colors.  But all that changed at 4:10pm right after we passed the Jamalzadeh avenue (west of enghelaab square towards Azadi square) as the small groups of people slowly joined each other automatically.
"Natarsim, Natarsim Maa hame ba ham hastim"
4:20 pm
A short figured girl who was walking next to me reached in her purse took out a green wristband and then raised her hands up in the air with a Victory sign. We all followed and the crowed automatically became a quiet and defiant freedom seeker band; "be tarafe azadi.." (towards Freedom) Hooman said aloud in a muffled bass voice.  Azadi means freedom in Persian so towards Azadi can mean either going towards Azadi square or going towards freedom.  His voice was horse from nights of chanting "Allah Akbar" on the rooftops.  The guards had all things planned and they stopped us in front of the Dampezeshki University (Veterinary University).  They actually blocked us from the front, back and from the streets.  So we pushed ourselves into the street and then the war started.  The evil guards charged towards us and scream replaced the victory signs.  Jaleh, Hooman and I held each others hands as the wild dogs attacked and the people scrambled and fell over each other.  Within seconds they reached us and they were swiping people up their feet with clubs, chains, and some innovative black rubber piece (that looked like a short water hose). We hid behind Hooman but he was hit on the leg and fell on top of us, Jaleh was hit on her face and I fell on my right ankle.  Screams and yells were everywhere and we were at first very scared but it seems that the fear disappears after the first hit. People started chanting "Natarsim, natarsim maa hame ba ham hastim" (we are not afraid cause we are united).
From the wonderful Iranian ex-pat Amil Imani
"Those who make peaceful revolution impossible will make violent revolution inevitable." – John F. Kennedy
Today, all Iranian expatriates are united in solidarity with the Iranian people in Iran. Today, we are all standing tall to let the world hear our continuous aspiration for a free and democratic Iran. Today, we pledge ourselves, under the divine inspiration, to stand beside the Iranians in Iran and echo their voices around the globe. Today, we make history, yet again.
It is critical that freedom-loving people, governments and media, rally behind the Iranian people and end the tyrannical mullahcracy that is a scourge on Iran as well as the world. The Iranian people themselves are fully capable and are determined to remove the cancer of Islamism from their country. The United States and Israel and other democracies have a huge stake in the success of the Iranian people to rid themselves of the Islamic oppression and tyranny.
Please do read it all.
4:15 pm: From MEMRI:
Jun 21  - Iranian Filmmaker Samira Makhmalbaf: Ahmadinejad Has Soiled the Streets of Iran with Blood and Wants to Lead the Region to War
Jun 21 - Khamenei's Representative in Syria, Mojtaba Al-Hosseini: The West Is Behind Demonstrations in Iran
Jun 21  - Iran's Supreme Leader Ali Khamenei in a Tehran Friday Sermon: In Every Election There Are Winners and There Are Losers
2:45 pm: Bush was right

2:10pm: US EXPORTS TO IRAN ON THE RISE UNDER OBAMA ADMINISTRATION hat tip Armaros

2:07 pm: How cancerous is leftist thinking? It knows no bounds and infects the very souls of people. Who can forget all those "death to the Jews" marches back in January during the Gaza defensive when Israel finally attempted to put an end to the 8,000 plus rocket attacks from Gaza. The leftists and the Muslims took to the streets in Europe, Asia and the US screaming for the death of the tiny Jewish nation. Tens of thousands of haters.
Where are these voices now? Where is the left now? Where are the fellow Muslims of the victims of the Iranain revolution?  Where's da ummah?
Where are the tens of thousands of hypocrites, liars and degenerates? At Trader Joe's?
1:23pm: Obama To Demonstrators: "We Are Bearing Witness". Ugh. Longing for Bush. Longing for testicular fortitude. Longing for a president that sides with freedom not jihad.
Commentary has a special preview of the abandonment of democracy.
Video Of Nighttime Home Invasion In Iran
The NY Times is reporting:
More splintering among Iran's clerics is reported by Reuters. The most senior opposition ayatollah, Hossein Ali Montazeri, distanced himself further from Iran's supreme leader, Ayatollah Ali Khamenei, who declared the June 12 elections valid and demanded a halt to public protests in a hard-line sermon on Friday. In a statement posted Sunday on his Web site, Ayatollah Montazeri said, "Resisting people's demand is religiously prohibited … I am calling for three days of national mourning from Wednesday." Last week the ayatollah described the election results as something that "no wise person in their right mind can believe."

Screw the clerics. They are trying to make this a religious revolution? I don't think so. Call me crazy but it's a violent reaction against the religious regime.
1:15 pm: "Have no fear, we are all together," and then "Down with dictator." The video is said to be of a demonstration on Sunday on Shirazi Street in Tehran.
1:06: There's been a lot of speculation that former President Hashemi Rafsanjani is very much a player behind the scenes............. in support of the revolution. Must be some truth to it. They arrested his daughter.
12:57: CNN is showing amateur video of Tehran. The streets are packed with protesters.
12:25pm Twitition (twitter petition): Since the Iranian government is blocking internet access, Google should update the satellite images so people can follow the movement of protesters.
Here's a new photo gallery and video montage from the Tehran protests.
12:16: Obama inspired poster .......of Neda, the young girl, standing with her father, shot in the heart by the Basij. (poster h/t DJM)
12:05pm: Over at Boston.com: PARIS—Iranian authorities have arrested 23 journalists  and bloggers since post-election protests began a week ago, according to a media watchdog that says reporters are a "priority target" for Iran's leadership.
11am: 
(hat tip Kenneth via the Guardian)
The man who leaked the real election results from the Interior Ministry - the ones showing Ahmadinejad coming third - was killed in a suspicious car accident, according to unconfirmed reports, writes Saeed Kamali Dehghan in Tehran.
Mohammad Asgari, who was responsible for the security of the IT network in Iran's interior ministry, was killed yesterday in Tehran. Asgari had reportedly leaked results that showed the elections were rigged by government use of new software to alter the votes from the provinces.
Asgari was said to have leaked information that showed Mousavi had won almost 19 million votes, and should therefore be president.
We will try to get more details later. The Guardian is reporting:
As the Iranian authorities continue their crackdown on opposition rallies, foreign journalists, and the internet, what next for the protest movement? Follow live updates on the aftermath of Iran's disputed presidential election
The youth draw on videos like this for inspiration before they hit the streets and put their lives on the line.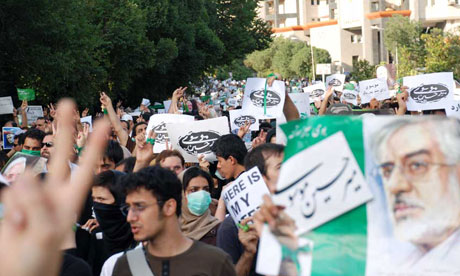 7.45am:
Iran's supreme leader Ayatollah Ali Khameni has condemned the protests as "vandalism", according to state TV.
But he also endorsed the guardian council's decision to conduct a partial recount of Friday's ballot.
"Those in charge of supervising the elections are always trustworthy people, but this should not prevent an investigation into possible problems and clarifying the truth," Khamenei is quoted as saying.
7.50am:
We reported yesterday that Twitter had delayed an upgrade to its network because of the vital role it is playing in the Iran protest. It has now emerged that the US state department requested the delay, according to the Washington Post. This despite Barack Obama's stance of not meddling in Iranian affairs.
8am:
On the subject of Twitter, we face a tricky dilemma.
We have been contacted by a number of people urging us not to link to individual Twitter users in Iran. They claim that this puts people in real danger, although Twitter users in Iran have not repeated this concern.
On the other hand Twitter users are providing vital updates on the situation at a time when foreign journalists are facing severe restrictions. Linking to tweets (which are of course published on the internet) helps readers to asses the veracity of what is being reported. If we don't link won't this simply help silence opposition and citizen journalism in Iran?
It's a difficult issue.
8.20am:
More disturbing video footage of the clampdown on protesters has been posted to YouTube (and talked about on Twitter). As is so often the case it is impossible to know when this was filmed, but I haven't seen it before.
8.45am:
More Iran cartoons: this one shows Ahmadinejad erasing the "public" from the Islamic Republic of Iran; this show a military boot crushing a voter; and here's Steve Bell's take on Ahmadinejad's problem with counting.
8.50am:
Twitter linking update: My bosses (our own Guardian Council) have decided that it is best to err on the side of caution and not to link to Twitter updates from Iran for now.
8.55am:
Another opposition protest is being planned for today, according to the BBC and Reuters.
Reuters copy is now accompanied by this warning: "Reuters coverage is now subject to an Iranian ban on foreign media leaving the office to report, film or take pictures in Tehran."
The Guardian's Tehran correspondent, Saeed Kamali Dehghan, writing in Index of Censorship, describes the struggle in getting information out of Iran.
"I will continue to report, but I fear that I may be arrested," he writes.
9.10am:
Ominously the blog of the reformist Mohammad Ali Abtahi is no longer available. In his last post he described the election as a "swindling". Abtahi, who was a senior adviser to the former president, Mohammad Khatami, was arrested yesterday.
9.15am:
Our Middle East editor, Ian Black, says the opposition movement is "amorphous and leaderless" in contrast to the power of the state. He says the outcome of the current power struggle could hinge on a partial recount of the election ordered by the guardian council. "How many people are going to believe the outcome?" he asks.
9.40am:
A man from Tehran, tells Small World News that most people are worried about their safety and fears more trouble at today's demonstration. In a three minute call he also says that internet bandwidth has been reduced and websites have been closed or hacked.
9.45am:
The English language version of Iran's state media, Press TV, reports that Mousavi supporters have called for another rally in Tehran this afternoon.
It notes the previous crackdown on similar rallies. "Tehran's governor general Morteza Tamaddon is quoted as saying: "Seven people were killed and 29 injured during the illegal rally on Monday."
The report adds: "While Mousavi backs the right of his supporters to express their dissatisfaction with peaceful protests, the candidate, who suffered a crushing defeat, has asked his supporters to keep calm and vigilant and to not fall into 'traps'."
9.55am:
Iran's foreign ministry has summoned European ambassadors to criticise their "interventionist and impudent" stances on the disputed election, according to the state news agency ISNA.
10am:
The Iranian authorities have intensified their crackdown on communications by blocking access to Yahoo, writes Saeed Kamali Dehghan from Tehran.

Yahoo Messenger had played an important role since Friday, when the Iranian government began to block Iran's mobile phone network and satellite TV channels, including the BBC's Persian Service.

"Yahoo Messenger was one of the most important means that Iranians could still distribute information after the government filtered Facebook and Twitter'" said Mahmoud Mirhashemi, 24, an engineering graduate from the Iran University of Science and Technology.

"In the early morning I couldn't log into my Yahoo Messenger account. First I thought that's because of the government clampdowns on the internet but then I found that I have access to other websites but not my Messenger," he said.

"The internet has a very important social function in Iran in comparison to Europe and other countries. We are one of the top 10 world's active blogging communities because of the level of censorship inside the country and now the government is cracking down on the internet as well," he said.

An Iranian blogger, who wished to remain anonymous, said: "Iran's blogging community has been very quiet this week - mostly because they are afraid of being arrested. The government has already filtered thousands of websites and blogs since Friday's election."

Iran has already blocked access to Facebook, Twitter and at least 20 websites affiliated to Iran's defeated reformist candidate, Mir Hussein Mousavi, although some users still can update their profiles by using proxy sites.

"Before this we could bypass filtering by using proxy websites, the links for which were distributed daily among friends by email. But now the Iranian communication ministry has also begun to tackle proxy websites too'" said Majid Farahani, a 21-year-old student.

"But there is still a small number of people who update their Facebook and Twitter profiles by using special anti-filtering programmes installed on their PC rather than regular proxy websites. The problem is that many people don't know how to use this software'" he said.
10.05am:
The Revolutionary Guard, an elite military force answering to Supreme Leader, warned bloggers to remove any materials that "create tension" or face legal action, AP reports.
Meanwhile, the US-based International Campaign for Human Rights in Iran says there has been mass arrests of leading reformists including politicians, intellectuals, activists and journalists.
It is getting reports that in the city of Tabriz more than 100 prominent figures have been arrested.
Iranian protesters after the helicopters released some sort of chemical liquid.

Tweet: Call from Iran reports severe skin burns due to the unknown liquid dropped from helicopters.
More videos from the front lines in Iran:

If the Islamic regime would do this to their own people, it's not hard to imagine what they would do to Israel, America or any perceived "threat".


BBC has these developments:
Thousands of police, militia and secret policemen blocked access to Enghelab and Azadi squares, and protesters were throwing stones in surrounding streets
A BBC correspondent saw one man shot in a crowd and another with injuries from a razor-wielding secret policeman
About 3,000 protesters were reportedly gathered at Enghelab Square, according to Associated Press news agency. They chanted "Death to the dictator" and "Death to dictatorship"
One witness told Reuters news agency that protesters loyal to defeated candidate Mir Hossein Mousavi set fire to a building in southern Tehran used by backers of President Mahmoud Ahmadinejad
A column of black smoke is hanging over the city centre, our correspondent says
Two Iranian news agencies reported that the suicide bomber died and two people were injured in the bombing at the shrine of Ayatollah Khomeini, leader of the 1979 revolution.
| | |
| --- | --- |
| | |
Some reports could not be independently confirmed. Foreign news organisations - including the BBC - have been subjected to strict controls which prevent reporters from leaving their offices.
A BBC correspondent in Tehran says his impression is that the police have broken up large crowds into smaller groups to prevent them assembling.
Confusing signals
Early on Saturday, the wife of Mr Mousavi and an aide to another rival candidate, Mehdi Karroubi, said the rally would go ahead, although this was later contradicted by his party.
Speaking on state TV, deputy police chief Ahmad Reza Radan warned police would "certainly fight against any form of illegal gathering and protest". He also said protest organisers would be arrested.
The result triggered almost daily street protests - a challenge to ruling authorities unprecedented since the Islamic revolution of 1979.
Mr Mousavi had been expected, along with fellow challengers Mr Karroubi and Mohsen Rezai, to discuss more than 600 objections they had filed complaining about the poll at a meeting of the Guardian Council, which certifies elections, on Saturday.
But neither Mr Mousavi nor Mr Karroubi attended the meeting - which suggests, our correspondent says, they have abandoned their legal challenge to the election results.
State TV quoted the Guardian Council as saying it was "ready" to recount a randomly selected 10% of ballot boxes.
It had previously offered a partial recount of disputed ballots from the election, rather than the full re-run of the election demanded by protesters.