While President Hussein works on freeing Gitmo detainees.....an American teenage girl was murdered by a released detainee.
CAIR was jubilant when President Hussein announced that he would close Gitmo.
CAIR was frothing at the mouth when the Jews were defending themselves in Israel -- claiming "Americans" were stuck in Gaza. The outrage!! Stuck!
"It is shocking that our own government refuses to ask a nation that receives billions of American tax dollars each year to pause its killing machine long enough to bring U.S. citizens to safety," said CAIR National Communications Director Ibrahim Hooper. "It is imperative that a long-term cease-fire be established to protect all of Gaza's civilian population."

But the murder of this beautiful American girl by a Gitmo detainee? Silence!
American Muslim Teenager Killed in Bombing by Ex-Gitmo Detainee: the Untold Story of Jihad Hitting Home
9/11 Families for a Safe and Strong America via
Gateway
(hat tip Cathy)
Susan Elbaneh was murdered by al Qaeda and apparently most of the media does not want you to know. Last week, you saw her killers' faces splashed across the headlines yet away from her hometown, the media was busy playing echo-chamber.

Strangely, the New York Times has failed to report the whole story three times.
The proof of that assertion is: Robert F. Worth wrote of Susan Elbaneh's fugitive cousin last March; he mentioned her death, name, and hometown last September while reporting on the bombing of our embassy in Yemen yet made no mention of Jaber Elbaneh; and their names and the latter's connection to the Lackawanna Six were missing from his reports last week about two former Guantanamo detainees reuniting with al Qaeda in Yemen and their being suspected in that same attack upon our embassy.
American girl Susan Elbaneh was murdered by al Qaeda and reporters from in and near her hometown actually began doing their jobs back as far as September 18, 2008: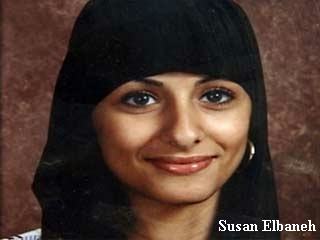 A Lackawanna High School student who traveled to Yemen to be married last month was one of the victims of a terrorist bombing Wednesday at the U. S. Embassy in Yemen, the woman's school principal said. Attackers armed with automatic weapons, rocket-propelled grenades and at least one suicide car bomb assaulted the compound in the Yemeni capital of Sana. Officials listed the 16 people killed as six assailants, six guards and four civilians. Susan Elbaneh, 18, was killed, along with her Yemeni husband, as they stood outside the embassy, family members said Wednesday. They were apparently there to do paperwork for the husband's move to the U. S. when the attackers struck, said Elbaneh's brother, Ahmed.
…
The Associated Press said Elbaneh had been in Yemen for a month for the arranged wedding Aug. 25. School officials said Elbaneh was the daughter of Ali T. Elbaneh and the niece of Mohamed T. Albanna, two Yemeni-American community leaders who took plea deals in a case involving an unlicensed money-transmitting company that illegally sent at least $5.5 million to Yemen. Authorities never have alleged that the money was used for terrorist purposes. In November 2006, U. S. District Judge William M. Skretny sentenced Ali T. Elbaneh to six months of home confinement for playing what federal prosecutors called a very minor role in the illegal business. Albanna received a five-year prison term. Authorities said the dead woman also was related to Jaber Elbaneh [Ed. — that is the FBI's bulletin], Mohamed Albanna's nephew, a fugitive accused of traveling to a terrorist training camp in Afghanistan with the "Lackawanna Six."