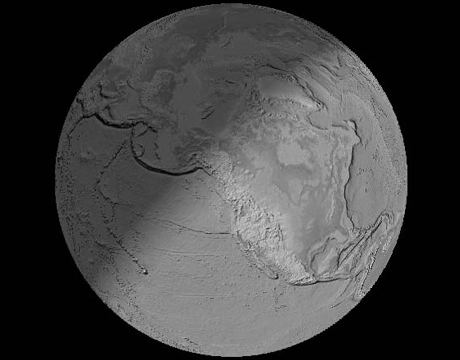 Our near future.
Above is how I see the planet around the middle of the year 2020. A dead planet, with no biosphere, even no atmosphere, and covered with grey goo. I believe that world after world throughout the universe has been destroyed by science out of control and therefore there are no advanced aliens out there like in the Star Wars or Star Trek movies. (Billions of worlds have likely been destroyed this way.)

Who am I? I am Eric Klien, founder of the Lifeboat Foundation. What is grey goo? It is a very small (think cell sized) robot that takes apart the biosphere to make copies of itself. Why am I posting here? Because Pamela, who is on our advisory board invited me. Do Pamela or other board members agree with me that the world will end in about 13.5 years? No, but they are concerned enough about bad things coming our way to help us fight the good fight against evil forces coming our way. Is Lifeboat Foundation a right-wing organization? No, our cause is too important for just right-wingers to be involved. People from across the planet with a wide range of views are joining our cause. Our board is brimming with top scientists, Nobel Laureates, deep thinkers, and other influential people. In fact more people wish to join than I have time to type in bios for.

Although I am a bit of right-winger (think InstaPundit to guess my political views), our advisors range from right-wingers such as Pamela, Jim Hoft of Gateway Pundit, and Jim Pinkerton from Fox News Watch, to left-wingers such as Peter Singer (who believes that sometimes abortions should be legal AFTER the kid is born) and Juan R. I. Cole (who Yale thought was too left-wing to be allowed to teach there), to the majority of our board which is composed of nonpartisan folks (well most are probably libs but I can't prove it).

RELIGION OF SCIENCE

What exactly will be the cause of our demise? It will be the Religion of Science. While I agree that the Muslim Religion will be responsible for quite a few deaths in the near future (check out our Nuclear Terrorist page), it is the Religion of Science that will do us in. What are the beliefs of the Religion of Science? They are that all scientific advancement is good under all circumstances. If worrying about a potential danger might cause scientific funding to be reduced by even 1%, this religion will do whatever it takes to quiet people mentioning such a danger.

To give you an example of the power this religion is getting, during WW II, scientists worked on developing the powerful atomic bomb. Because the Religion of Science was weaker back then, this work was classified because it was understood that the world would be a better place if EVERYONE didn't have nuclear bombs. The latest weapons available, even more dangerous than nuclear bombs, are bioweapons which could easily be used to kill tens of millions if not hundreds of millions of people at a time. But now that the Religion of Science is more powerful, they have decreed that the world would be a better place if EVERYONE had access to such weapons. (Especially Al Qaeda!)

Because these weapons were developed recently (actually the most deadly stuff won't be available for a couple more years), the Religion of Science was able to influence the politicians and convince them that a world where everyone had bioweapons would be a good idea. So the U.S. Department of Health said, O.K., if Al Qaeda wants to create ebola here is the recipe for it. Hmm, maybe Al Qaeda wants something that spreads easier? Well here is a recipe for smallpox then. Or better yet, Al Qaeda could create a Frankenstein virus that combines smallpox and ebola! You think that is science fiction? One of the Lifeboat Foundation scientists has *ALREADY* created a Frankenstein virus that is part AIDS and part another virus and he used it to infect macaques who are immune to the AIDS virus. (Don't be mean to him about this, he had a good reason.)

COMING DANGERS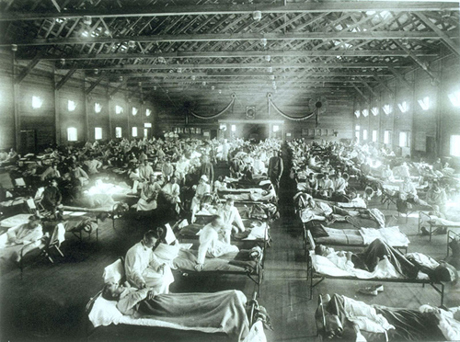 The 1918 flu virus which killed 50 million people was also posted by the U.S. Department of Health on the internet. Above picture is a death scene caused by this virus.
While it is unlikely that bioweapons will kill all of us (even killing 90% of us would be a bit surprising), the way the Religion of Science is putting virtually no controls on bioweapons shows us how the next class of weapons will be treated. Starting around 2020, nanotechnology, which is the ability to design stuff atom by atom, will be viable. It could easily be used to create doomsday weapons of both the replicating and nonreplicating variety. This will happen with virtually no controls and then human life (and most likely all life on this planet) will end.
When the Lifeboat Foundation worked on our NanoShield report, it was rather discouraging that both of the primary authors said they could not guarantee it would handle all replicating nanoweapons and they were quite sure that it couldn't handle all nonreplicating nanoweapons. (Read the report to see why there are worse nanoweapons than grey goo.)
The reason this was particularly discouraging is that as I said before, few people believe the world is going to end like I do and I strongly doubt that these authors believe the world is going to end either. Yet a massive NanoShield proposal which included utility fog curtains capable of establishing filters for the separation of the world's atmosphere into compartments, orbiting satellites capable of emitting penetrating radiation and localized heating, quintillions of smart dust (a small spying device) everywhere so we can finally watch Pamela shower, electromagnetic pulse devices, and much more, was not guaranteed by these optimists to protect us against a weapon that WILL be available in the near future. For the record, there is no reason to believe that a massive NanoShield as described in our report will be created in the near future, it would just be too expensive. The question was: "Could something at least be theoretically designed to protect us?"
WHAT CAN YOU DO TO SAVE US ALL?
You can check out our site and then join our cause. What are we doing that will make a difference? We are working at encouraging the building of defenses while also trying to expose the dangers that are coming. I should point out that to date most of our funding has come from libs so it would be nice if a few conservatives got off their lazy butts and gave us a few bucks. If Lifeboat Foundation does not become a huge organization over the next decade or so, we will all die.
I GUARANTEE IT!