I inquired of our adored expat from Sweden to detail his experience in academia upon coming to America. He writes [emphasis mine]:
Subject: The water that hollows the rock
I admire your optimism and relentless commitment to your values. I liked the way you ran my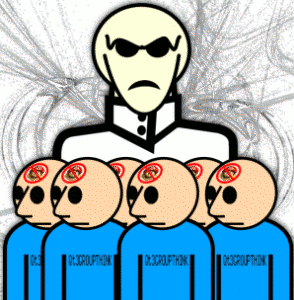 e-mail, and the illustration was quite nifty!
Yes, my experience with American academia was quite overwhelming. It was disturbing and frustrating, yet inspiring and at times rather infuriating. I still get upset when I think about some of the most abhorrent forms of intellectual oppression that I faced, but since then I have learned a great deal about the left on America's college campuses and thereby been able to put things in a different perspective.
The best way to illustrate what I experienced is actually to start from the beginning. When I first came to campus I was greated by colleagues all across campus with open arms, and a particular kind of friendliness that I gradually realized was not for me personally - but for what I represented to them.
As a Swede I was, to my American colleagues, the embodiment of their ideal, their dream society. I somehow symbolized a refined social order where such things as racism, violence, poverty and the common cold no longer exist. Of course, they asked me about my country and I honored their curiosity by explaining that there was a reason why I had chosen to come to America. I explained how Sweden was no longer the crown jewel of social evolution, but had become the land of sour milk and stale honey. In fact, it never was that crown jewel - it was only perceived to be so by radical leftist outsiders looking in through the polished windows.
Gradually, the attitude shifted. Slowly they began looking at me with different eyes.
Read the whole thing......................
PS Likeable? He is postively loveable! You gotta love this guy..............I do - Atlas

I remember a conversation with a math professor about unions, and how she had a lot of derogatory things to say about Reagan for having taken on the air traffic controllers' union. I told her how unions in Sweden kept wages down and non-union members out of work.
I defended Bush's tax cuts against my colleagues (I'm an economist) by citing statistics that showed how high taxes suppress prosperity and keep people trapped in the shackles of government welfare.
I never imposed my agenda on anyone, though. I did not have to. Soon enough everyone on campus knew that I was the black sheep of the Scandinavian family. I was pulled aside by one of my colleagues who told me that I should stop telling people about my conservative views, because he did not want to have to defend before his peers why they had a conservative faculty member at the department...
After I revealed to my department chair that I was talking to a conservative publisher about a book in defense of market driven health care I became the true outcast. I think you call it the "wolf's head": someone whom anyone in the village can kill without being sentenced for murder. My department chair began bullying me on a daily basis, tying me to an impressive roster of more or less scary characters. After six months I told him to take a hike - at that point I already knew my contract was not on the list of renewals - and things cooled off a bit.
I am a very likable guy - heck, I am the incarnation of likable! - so I am pretty sure my personality had nothing to do with this. Also, there was another conservative faculty member who started when I did. She revealed her preferences before I did and was subjected to far more aggressive and intimidating harassment. After having being brought to tears on two occasions already during our first year there, she packed up and left. I should have seen the writing on the wall, but I just can't live with myself if I sell my values for a fistful of dollars. (A million or two, though...)
Once I realized that the department chair and his closest friends had decided to change their previous assessment of me - which was to ask me to stay so I could be considered for a tenure track - I adopted the good old principle of having nothing left to lose. So I contacted the Repubican students assembly on campus and organized a Conservative Challenge Week. It was held last week of March this past spring and was a successful event in itself. We had Horowitz on - in retrospect perhaps not the ideal choice, but it sure stirred up some emotions - and we discussed politics, ideological bias in academia and some other issues of more local concern. I was, of course, branded as the key conspirator behind this and the heat was turned up again.
Pamela, I'm not bitter. Not one ounce. I am angry, of course, and I am very concerned about the damage that these radicals do to American society. Their monopoly on educating young Americans is deafening and unless it is challenged, halted and reversed it will be the slowly dropping water that eventually hollows the rock of values that America was built on.
I am thankful for one thing in particular that I achieved over the past three years: I was able to reach out to students who were oppressed, scoffed at and ridiculed by other faculty members. I was able to empower them, to tell them that they matter, too. I was able to show them that they can stand up to a complete wall of radicals who deem their right-minded values "less educated", "uninformed" or "unsuitable for an education major".
Especially the "less educated" part of the equation was rather startling. Lefitst academics are deeply convinced that having a Ph.D. is having a degree in a refined view of the world - the liberal view. They think that being educated means being able to appreciate, tolerate and even emancipate all sides of one issue. But that is not what education is. You are not educated because you can contextualize and see all sides of an issue as equally valid. You are educated if you can tell right from wrong. You are educated if you can produce an intelligent defense of the liberties of Western Civilization against its enemies. You are educated if you can make a good argument for the moral virtues of a free society - when you have achieved high levels of professionalism, when you can appreciate and defend the accomplishments of individual independence
Most importantly: you are educated when you realize that some accomplishments of humankind are worth great sacrifice. The comfort of a tenured faculty position is worth nothing if the people outside your campus are being killed for their religion, if women are oppressed for their choice of clothes, if children suffer on year-long waiting lists to see a medical specialist because their parents are not allowed to pay the doctor themselves...
Lack of education – genuine education on right, wrong, freedom and sacrifice – among college radicals is one of the most serious problems in America today. It is very disturbing to see how this lack of education is passed on to generation after generation of American college students. It makes me wonder what will happen to America and the defense of free society in the future. It makes me wonder how far we are from the point where America's future, for the first time ever, will be less bright than its past.
America's future is the future of Western Civilization. If individual liberty and economic freedoms can survive and thrive in America, they will survive and thrive in the rest of the world. But if America were to shy away from its core values, then those values would be in great peril all across the world.
For the sake of survival of America, it is critical that future generations of college students are allowed to grow into strong, independent citizens, proud over their heritage, confident about the future. At some point I might return to college and teach again, but for now I am working as a policy research consultant. It is great fun, and I might keep on doing it. But I also miss my students.
Oh well. So much about me. Who are you???
Cheers, /Sven
PS Likeable? He is postively loveable! You gotta love this guy..............I do - Atlas